Tel: +86 371-67991755
Fax: +86 371-67993277
Sales direct: +86 15838331071
E-mail:sales@battemachinery.com
http://www.volumetric-feeder.com
24h services
Vibratory Feeder
Vibratory feeder is have a full range of volumetic feeders with a number of models and different-sized hoppers to meet your specified requirements.Most materials do have variations in density great enough to warrant the use of a gravimetric feeder.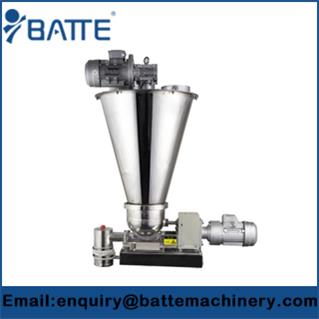 Vibratory Feeder Advantages:

2.You can adjust the amplitude to control the flow rate.
3.The electromagnet controlled mechanical vibration with simple structure and easy
4.Vibratory volumetric feeders can be used as an auxiliary for all kinds of plastic products production line.
Vibratory Feeder Installation:

1.The good quality ensured your long life using and low maintenance cost.
2.Less noisy with small power consumption.

Relative Articles:
◆Volumetric Feeder Machine
◆Volumetric Feeders Control System
◆Loss-In-Weight Batching System Elements
◆Gain In Weight Feeder