Tel: +86 371-67991755
Fax: +86 371-67993277
Sales direct: +86 15838331071
E-mail:sales@battemachinery.com
http://www.volumetric-feeder.com
24h services
Plastic screw feeders
Our plastic screw feeders are the appearance of fine processing, the internal structure design, good sealing and no leakage of material. The double screw volumetric feeder
feeding screw is 45 # round by special screw milling finishing polished, Which makes smooth running so smoothly feed and non-stick material after feeding screw barrels casting equipment molding machine by precision machining.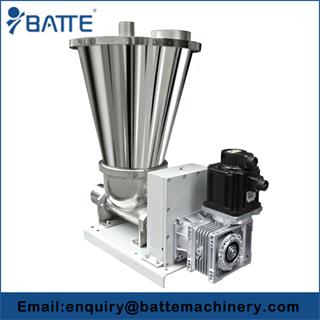 Plastic Screw Feeders Characteristics:
1. The optimized formula feeding motor gear motor. During the working process there is no noise, smooth no jitter and no resonance.
3. Stainless steel batch cutting molding, generous shape, smooth and bright, has a good seal, no leakage of dust,
4. Stir with anti-arching material feeding system to effectively prevent the material in the hopper less than expected bypass common problem.
Plastic Screw Feeders Unit features:
The recycling of waste plastics, sorting washing into the band after feeding the crusher, crushing material washing once, broken good drying material without drying, direct extrusion, drainage, exhaust, brace , a pelletizing once.
Plastic Screw Feeders Applications:
This machine is mainly used for waste plastic recycling granulator, for high-pressure polyethylene, low-pressure polyethylene, polypropylene and foam material film, films, bags, silk, net and other waste plastics recycling granulation.

Relative Articles:
◆Continuous feeder automatic feeding machine
◆Rotary valve used with volumetric feeders
◆Volumetric Lime Feeder
◆Two Component,Multicomponent Feeding Machine