Tel: +86 371-67991755
Fax: +86 371-67993277
Sales direct: +86 15838331071
E-mail:sales@battemachinery.com
http://www.volumetric-feeder.com
24h services
Rotary valve used with volumetric feeders
Rotary valve used with volumetric feeders are used in pneumatic conveying systems, dust control equipment, and as volumetric feed-controls. Rotary airlock valves are also widely used as volumetric feeders for metering materials at precise flow rates from bins, hoppers, or silos onto conveying or processing systems.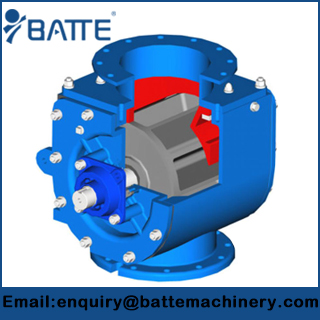 Rotary Valve Used With Volumetric Feeders Characteristics:
Rotary feeders are primarily used for discharge of bulk solid material from hoppers/bins, receivers, and cyclones into a pressure or vacuum-driven pneumatic conveying system.
Rotary Valve Used With Volumetric Feeders Applications:
Rotary feeders are ideal for pollution control applications in wood, grain, food, textile, paper, tobacco, rubber, the Standard Series works beneath dust collectors and cyclone separators even with high temperatures and different pressure differentials.