Tel: +86 371-67991755
Fax: +86 371-67993277
Sales direct: +86 15838331071
E-mail:sales@battemachinery.com
http://www.volumetric-feeder.com
24h services
Continuous feeder automatic feeding machine
In recent years, the development of waste plastics recycling industry is very rapid, granular machine development led to the development of plastics auxiliary machinery, the advent of plastic particles continuous feeder automatic feeding machine greatly facilitate the production of the investor. This
single screw type feeding machine
greatly improving production efficiency liberating the productive forces. The
continuous feeder automatic feeding machine
created favorable conditions for the development of plastic Recycling industry.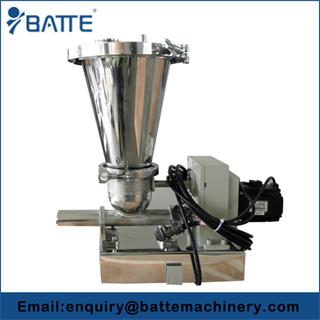 Continuous Feeder Automatic Feeding Machine Details:
Plastic granulation process high labor intensity of artificial feeding, cutting uneven, the rotary machine, hammer principle, can be a variety of soft and hard plastic into a uniform rapid host, reduce labor intensity, increase production. The use of volumetric feeder is safe and convenient .

Relative Articles:
◆volumetric feeder company
◆what is loss in weight feeder for extrusion line
◆Volumetric Vibratory Bowl Feeders
◆Loss-In-Weight Batching System Elements