Tel: +86 371-67991755
Fax: +86 371-67993277
Sales direct: +86 15838331071
E-mail:sales@battemachinery.com
http://www.volumetric-feeder.com
24h services
Trace Weight Volumetric Feeder
A true trace weight volumetric feeder encompasses a positive method of measuring a
specific volume of product discharging the "measured" volume of materials.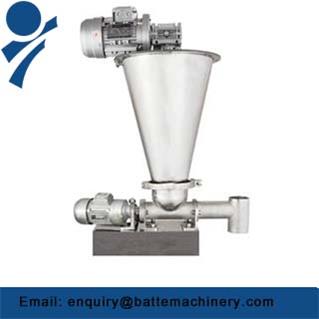 Trace Weight Volumetric Feeder Advantages:

1.Designs provide a high degree of versatile volumetric metering performance.
2.Each of these individual volumetric feeder models possesses specific functionality,
suitable to handle a range of product characteristics.
3.Competitive price&high quality
Trace Weight Volumetric Feeder Application:

Volumetric screw feeders
additional options for mixing, stirring, spreading and pulse elimination, and for
handling difficult materials with special properties (sticky, stringy, lumpy, aerated,
cohesive, abrasive, dusty or fragile) are also available.

Relative Articles:
◆Auger type volumetric feeder
◆Volumetric Feeder Machine
◆Loss-In-Weight Continuous Feeder
◆Volumetric Feeding Vs. Gravimetric Feeding