Tel: +86 371-67991755
Fax: +86 371-67993277
Sales direct: +86 15838331071
E-mail:sales@battemachinery.com
http://www.volumetric-feeder.com
24h services
what is loss in weight feeder for extrusion line
Loss in weight feeder for extrusion line
is specially designed for measuring and feeding materials with small flow rate.
liquid loss-in-weight feeder is available for liquid materials with low to high viscosities.
Automatic weighing system is made of the dosing unit platform,automatic feeder system,hopper,control system,operation panel.Loss-in-weight can feed the material with high-precision and continuously by static weighting to realize to weight by itselves.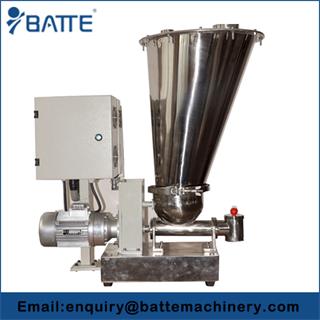 Loss In Weight Feeder For Extrusion Line Applications:
As measuring flow rate an approximately static weighing method,
Liquid weight loss type feeding machine
is simple, high precision and practical.
Loss in weight feeder for extrusion line
is widely used for bulk, pellet, powder, fibrous, liquid materials in various industries, such as pharmaceutical Industry, Food Industry, Rubber Industry, Ceramics Industry, Chemical Industry, Plastic Industry etc.
BATTE liquid loss-in-weight feeding system with high accuracy can satisfy the field of pharmaceutical, chemical, food, rubber industry etc.