Tel: +86 371-67991755
Fax: +86 371-67993277
Sales direct: +86 15838331071
E-mail:sales@battemachinery.com
http://www.volumetric-feeder.com
24h services
Automatic suction machine
Automatic suction machine composition and working principle: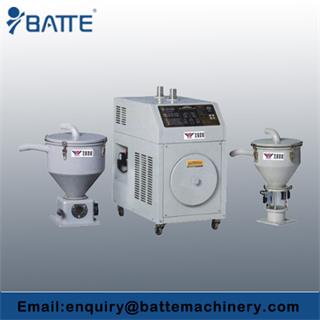 Automatic suction machine composition:
Automatic suction machine is composed of a hopper and host two-part hopper by inductive switch, mechanical air switch, filter, inlet and suction port components. Host operation control by the time relay. Components: motors, filters, air intake, suction device, sensing cable and multiple sets of relays.
Automatic suction machine working principle:
Using in the injection molding machine hopper dryer, when there is no material, mechanical air switch will fall toward the open sensor switch. When sensor switch open the motor starts running. The motor drive ventilation apparatus operation. It began to filter through the air in the storage hopper suction effect mechanical switch turns off the air discharge port upward. forming a storage hopper vacuum inlet pipe leading from the feeder hopper. When feedeing entered the hopper, the raw material suction strainer is not isolated motor direction when the motor is stopped after the set operating time is reached.
The suction machine suction or why not delayed suction:
1. The suction pipe where the leak may not reach the vacuum state.
2. Check the air filter is not (filter) is blocked.

Relative Articles:
◆How to select feeder for different materials
◆Continuous feeder automatic feeding machine
◆Mini screw plastics loader screw feeder
◆Precision Volumetric Feeders