Tel: +86 371-67991755
Fax: +86 371-67993277
Sales direct: +86 15838331071
E-mail:sales@battemachinery.com
http://www.volumetric-feeder.com
24h services
Volumetric feeders production lies in manufacturing screw feeder
Volumetric feeders production
lies in manufacturing screw feeder for feeding granules, plastic , ploymer and so on . Feeders are equipped with agitator for smooth conveying. The contact parts are manufactured using non-corrosive steel. The v
olumetric feeders production
wide range of feeders is available in auger, spiral and twin screw.
Volumetric screw feeders
are design for feedings granules, minerals like glass, powder, separate agitator provided for smooth conveying, v
olumetric feeders production
are available in auger screw, spiral screw, twin screw.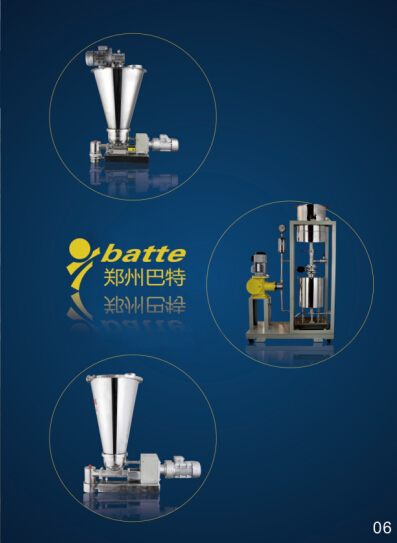 Specifications of Volumetric feeders production:
1.Four basic components: Supply hopper,Vibrating feeder and Support frame
2.Electronic controllers to regulate the feed rate by varying the vibrating intensity
3.Regulates the material depth by adjusting the opening between the hopper and the feeder
4.Uniform feeding, continuous performance
5.Easy integration with the load cell
6.Precise weighed output can be obtained
Batte Service:
We hold expertise in manufacturing, exporting and supplying v
olumetric feeders production
feeding machine. Our range is single headed entry level machine which is developed using quality raw material. These are attached with twin vibratory feed track along with fine feed modes for attaining accuracy. We also provide fine trap box arrangement in certain cases, if required.
Relative Articles:
◆Batte volumetric and gravimetric screw feeders, low-cost trough screw feedes
◆China Batte The Best Volumetric Feeder, Volumetric Feeder Manufacturers And Suppliers
◆Volumetric feeders production lies in manufacturing screw feeder
pre: