Tel: +86 371-67991755
Fax: +86 371-67993277
Sales direct: +86 15838331071
E-mail:sales@battemachinery.com
http://www.volumetric-feeder.com
24h services
Volumetric Feeder Definition
Volumetric Feeder Definition :
A volumetric feeder definition is that volumetric feeders dispense predefined amounts of material in a specified time period in a defined ratio. Volumetric system doses material according to the space it occupies i.e. its volume.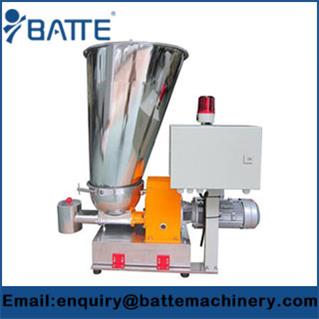 Volumetric Feeder Advantages:
Volumetric feeders are also unable to measure the flow for data acquisition. A volumetric feeder may be good for your application if your material has little variation in density and pellet uniformity.
Volumetric Feeder Disadvantages:
You must also consider what you will be feeding based on cost and concentration. If you need to feed a material in at 1% by weight gravimetric feeders are almost always a must.
Batte volumetric feeder, low-cost trough screw feeders.Batte continous feeders, designed for continuous working. The volumetric feeder is the simplest, most economical feeding machine. Batte Loss In Weight Feeder provides unparalleled versatility.

Relative Articles:
◆Plastic Volumetric Single Screw Feeder
◆Volumetric Vibrating Tables Feeders
◆Loss-In-Weight Batching System Elements
◆Twin Screw Volume Feeding Machine