Tel: +86 371-67991755
Fax: +86 371-67993277
Sales direct: +86 15838331071
E-mail:sales@battemachinery.com
http://www.volumetric-feeder.com
24h services
Single Screw Volumetric Feeders
Single screw volumetric feeders
belongs to
volumetric feeders
.It is also be called
single screw volume type feeder
or
single screw feeders
.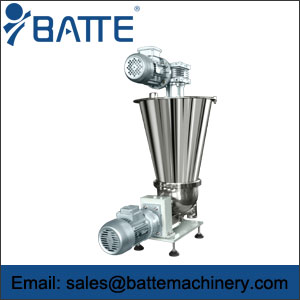 Single Screw Volume Type Feeder Features:
1.Uniform feeding, continuous performance.
2.Adjustment range flow, reliable operation.
3.Single screw volume type feeder compact, small size, convenient installation and maintenance.
4.The single screw feeders are installed in the steel base paint, all contact parts and materials are stainless steel.
5.The single screw volume type feeder is easy to disassembly and cleaning or replacement of parts.
6.Make the material evenly into the screw from all directions in the spherical hopper, effectively prevent the accumulation of material.

Single Screw Volumetric Feeders Applications:
1.Can guarantee the use of continuous and uniform feeding material.
2.The single screw volumetric feeders suitable for all kinds of powder granule, pill shaped material, poor liquidity, sheet is smaller.
3.Further improve the level of mixing materials to promote the flow of the screw feeder, more accurate.
Parameters:
Single Screw Volumetric Feeders:
Type

Screw

specification

Capacity

(L/H)

Driving

power(kw)

Hopper

(optional)
Type

Screw

specification

Capacity

(L/H)

Driving

power(kw)
Notes: The feeding capacity and accuracy will be affected by different materials.
As a
volumetric feeder manufacturers
,Battte haa a full range of volumetic feeders with a number of models and different-sized hoppers to meet your specified requirements.
Relative Articles:
◆Volume type feeding machine
◆The Volume Of Double Screw Type Feeding Machine
◆Trace Weight Loss Type Feeding Machine